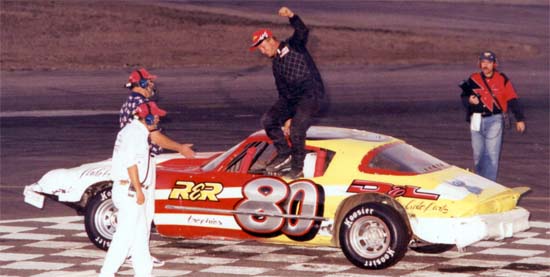 NAME: Harry Bragg
CAR#: 80
CAR MAKE: Chevrolet Camaro

HOME TRACK: Colorado National Speedway

TRACKS DRIVEN: Colorado National Speedway, I-25 Speedway.
FAMILY:
SPOUSE: Kristy
CHILDREN: Cody, Holly & Rusty
BIRTHDAY: August 16th, 1971
HOMETOWN: Castle Rock, Colorado
OCCUPATION: Diesel Mechanic
HOBBIES: Golf, Spending time with Family, Shooting
RACING EXPERIENCE:
Grew up watching races at Freeport Raceway in New York. I raced in New Jersey in the Demo Derby before moving to Colorado in 1991.
In 2003, I finished 2nd in the points at I-25 Speedway and 6th in the points at Colorado National Speedway.
In 2004, I finished 5th in the Points at Colorado National and 2nd in the points at I-25. I also finished 3rd in the Inaugural Regional Figure 8 Series.
In 2005 I WON the Figure 8 Championship at Colorado National Speedway, The 2nd Annual Regional Figure 8 Series Championship and was 4th at I-25.
With being a part of Bad Boy Racing I have an excellent team around me and top notch equipment to work with.