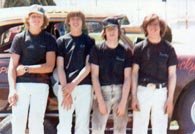 NAME: "Hotrod" Dave Smith
CAR#: 81
CAR MAKE: Chevrolet Camaro

HOME TRACK: Colorado National Speedway

TRACKS DRIVEN: Englewood Speedway, Lakeside Speedway, Colorado National Speedway (Dirt & Asphalt), Rocky Mountain
National Speedway, Colorado Springs International Speedway, Beacon Hill / I-25 Speedway, I-76 Speedway.
FAMILY:
SPOUSE: Janet
CHILDREN: Amber, Timothy, Lacy
BIRTHDAY: November 8th
HOMETOWN: Englewood, Colorado
OCCUPATION: Technical Service Specialist
HOBBIES: Racing and HotRods
RACING EXPERIENCE:
I came from a racing family. my Dad drove Modified's in the 1960's and went on to pit for Jay Saxton at Lakeside Speedway. Don Crowfoot (my Uncle) drove Figure Eight cars at Englewood Speedway in the 1970's.
I started racing Figure Eights at Englewood in 1976 until they closed the track in 1979.
In 1976 I won Rookie of the Year. I also won a couple of Trophy Dashes and A Mains.
In 1980 I started racing on the Oval at Lakeside Speedway
1981 to 1989 I raced on and off at Colorado National Speedway on the Dirt.
1990 The paved CNS and I went back to the Figure 8.
I have numerous wins in both Trophy Dashes and A Mains.
Points Finishes at CNS:
1991-10th, 1992- 19th, 1993- 13th, 1994- 10th, 1995- 6th, 1996- 14th, 1997- 3rd, 1998- 10th, 1999- 9th, 2000- 6th, 2001- 3rd, 2002- 7th, 2003- 5th, 2004- 4th, 2005- 7th
Points Finishes at Beacon Hill / I-25 Speedway:
1993- 4th, 1995- 8th, 2003 - WON the Figure Championship, 2004, WON the Figure 8 Championship, 2005- 3rd
Over my 30 years of racing I have come across some of the best racers and the wildest & craziest fans that a person could ever meet and some of the best friends that I could ever ask for.